Open every day from 12pm, serving throughout the day and into the evening, our kitchen delivers a seasonally-focused menu of modern and imaginative dishes. Our menu also features all your pub classics, a selection of high quality steaks, plus our well-renowned specials board focusing on sustainable Australian sourced game meats.
The menu is available throughout the venue whether you choose a cosy dining experience in our Room with a View overlooking the Carlton Gardens, or a more casual experience, in the heart of the action on one of our high tables or booths surrounding the bar.
Our entire specials board is dedicated to sustainable Australian sourced meat, with a bit of a difference! In 2016 we introduced game meats onto our menu and it became so popular that this is now a permanent feature of our Hotel with a new dish appearing every week. The dishes vary from common game meats like kangaroo, wallaby, goat and venison to the more unusual like crocodile, emu, wild boar, buffalo and camel.
We try to obtain local Victorian produce wherever possible, however our game meat also comes from other parts of Australia like the New England Ranges in NSW, SA or Tasmania.  Our Head Chef loves to experiment with flavours and uncommon ingredients to compliment the game meats on offer and create exciting, modern Australian dishes.
Check out our Promotions page to view what's on offer this week. It is a total game changer.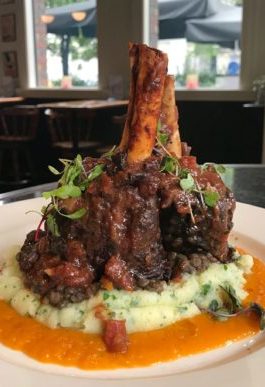 Our recently renovated bar invites you inside with its eclectic, cosy décor making you feel immediately at home.
As relaxing as it is engaging, the St Andrews Hotel is the perfect place to drop in for a quick drink or meet with friends and colleagues.
We offer a large selection of local and international beers both on tap and in bottles, an impressive wine list and an extensive list of spirits and cocktails. Whatever your taste, we are sure to keep you in good supply.
Our Room with a View is a warm and inviting private dining space. We regularly host milestone birthdays, corporate events, Christmas parties and religious occasions.
The room is cosy, and rustic having been charmingly decorated with traditional Victorian paintings and prints, exposed wooden flooring, a large open fireplace as the centrepiece of the space, and of course the impressive views overlooking the Carlton Gardens.
The Room with a View seats between 20 to 40 guests exclusively, or can be customised for a cocktail event, comfortably accommodating between 30 to 40 guests.
For larger occasions, the Conservatory is the jewel of the St Andrews Hotel. The St Andrews Conservatory is impressive and contemporary; the setting is perfect for any special occasion, whether you choose to celebrate with lunch, dinner or canapés.
By day, the brilliantly refurbished Conservatory is filled with natural light spilling from its distinctive glass roof. This feature is hung with delicate bamboo lanterns which, in the evening, illuminate the venue and give a sense of romance.
The St Andrews Conservatory seats up to 120 people, or comfortably accommodates 160 people in a cocktail style format. Please view our separate website for all function packages and information.